FELIX BIOprinter
Perform advanced research with the aid of extrusion based bioprinting.
The BIOprinter born to fulfill demanding requirements for researchers in an EU funded project to cure parkinsons disease.
Based on the proven platform of the FELIX Pro Desktop series (a few thousands sold). This solid performer will surely meet your BIOprinting demands.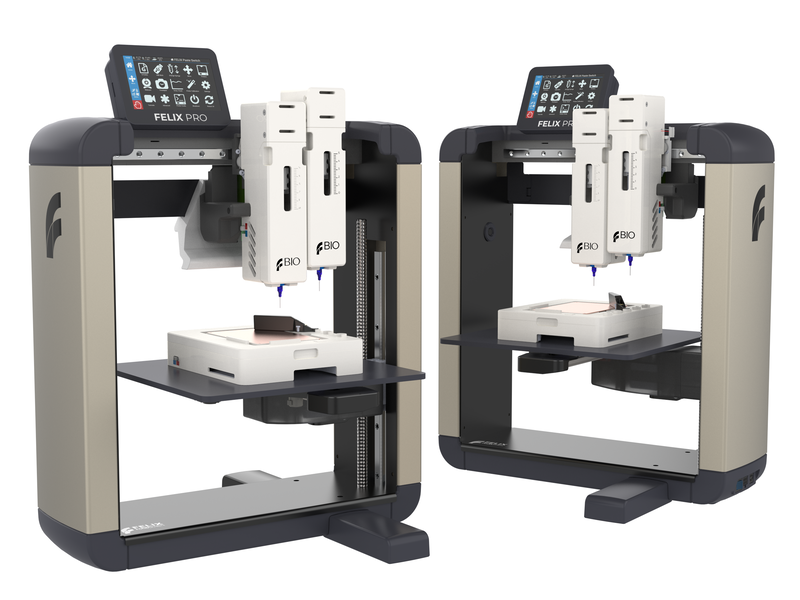 Why choose FELIX BIOprinter
The FELIXbioprinter platform is well suited to perform most needs in the field of extrusion based bioprinting. If the extended list of features are not sufficient, the system is open to change the hardware, software or firmware.
Easy to use

Accuracy

Robust system

Modular system

Compact
FELIX BIOprinter features
A fully packed 3D printing platform, with
features to accelerate your research
Innovative dual print head system
Motorized extrusion


Enables precise extrusion regardless of temperature and viscosity.

Syringe heating and cooling


With a range from 4°C up to 75°C when printing at room temperature.

Dual material printing


The active extruder is positioned lower than the idle extruder, enabling dual extrusion within a petri dish.
Open Syringe system
Quickly swap syringes


Change between extruders and materials rapidly, taking only seconds.

Use standardized syringes


The extruder features a smart adjustment mechanism, allowing it to accommodate luer lock syringes of different brands with capacities of 1ml and 5ml.

Material flow detection


The printer has the capability to detect an empty syringe or a clogged nozzle, enabling it to automatically enter pause mode.

High extrusion force


With an extrusion force of 350 Newton or 35 Kg, the printer empowers you to print with a diverse array of materials.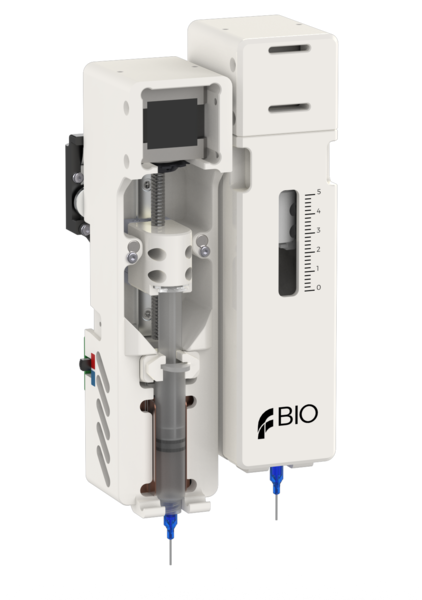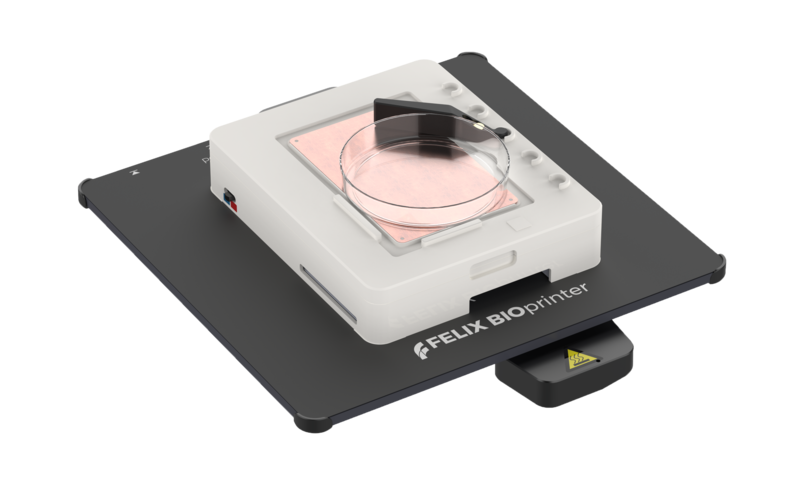 Bed module (optional)
The standard heated build plate can reach temperatures of up to 80°C. Additionally, our cooled bed module provides the following capabilities:
Fixing several sizes of petri dishes, Well plates and Slides
Temperature control within a range of 4°C to 60°C


(When printing at room temperature)
UV module
Some (BIO) materials require curing to ensure rigidity. The UV module offers the following functionalities:
The UV module is capable of curing UV-sensitive materials
It operates at a wavelength of 365nm
And has a power usage of 2W

Touchscreen interface
The printer hosts a powerful touchscreen, control the printer directly or via the convenient webinterface .
- Intuitive interface
- Manage print files
- Monitor temperatures
- Webcam
- USB stick
- Access via web browser
Webcam monitoring
The 2 MP webcam camera allows you to:
Follow the print process remotely via the web interface
Create timelapses
(Optionally) You can connect a USB microscope for research and scientific applications.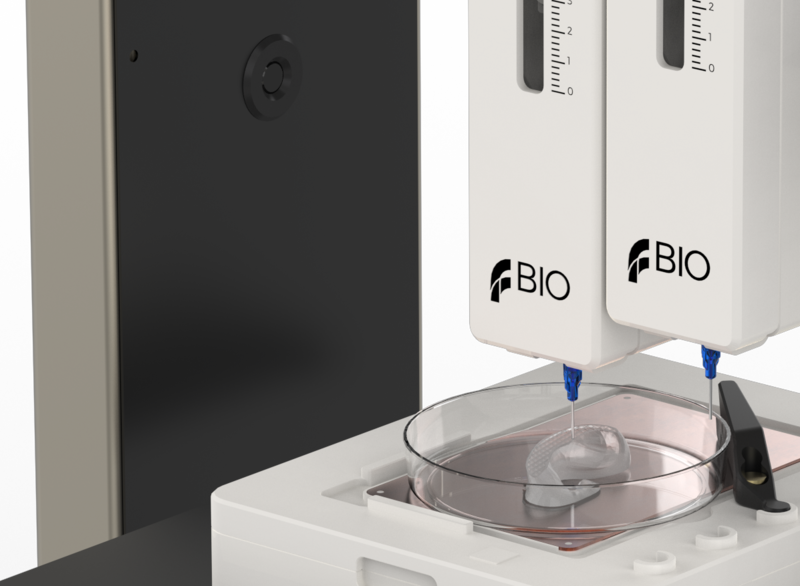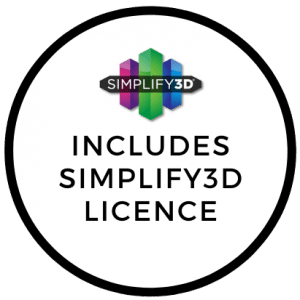 Software
Included in the package is one of the best and most versatile 3D printing software options.
It comes with several presets and grants you unlimited freedom to fine-tune it according to your specific application.
The print process in 4 simple steps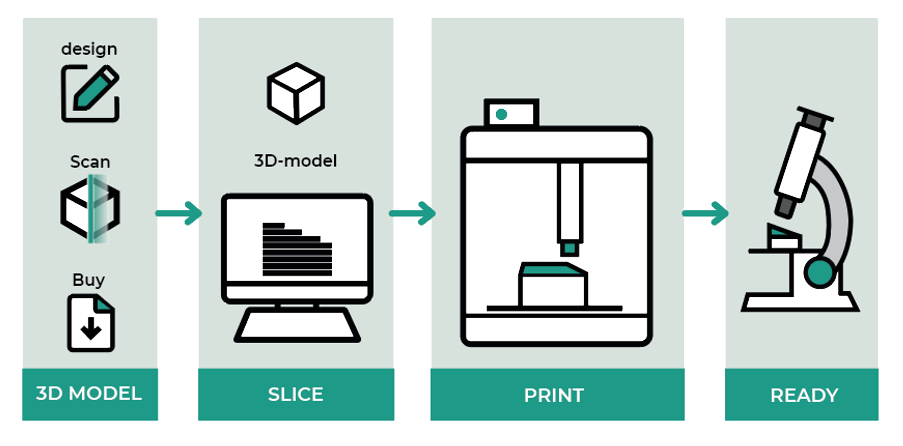 Materials
You have the capability to employ any substance with a viscosity not exceeding 1000 Pascal-seconds. For the purpose of multilayer 3D printing, it is recommended to utilize a minimum viscosity of 50 Pascal-seconds.
Within our inventory, we have a comprehensive array of materials meticulously chosen based on the esteemed recommendations provided by our valued partners.
Your support in bioprinting
Discover the range of bio inks suited for specific medical and research needs.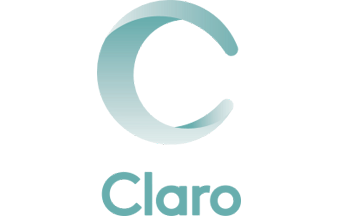 Claro
Claro is a leading developer of Bioprintable Gels featuring tailored behaviour for extrusion-based bioprinting.
Explore Claro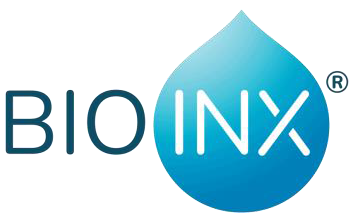 BIO INX
BIO INX® offers a wide spectrum of inks for deposition-based 3D printing, ranging from synthetic to nature-derived materials, for easy printing of biocompatible platforms enabling cell seeding and/or cell encapsulation.
Explore BIOinx